After getting hurt racing motorcycles Travis Bean went to work at a music store in Burbank, CA where he met Marc McElwee, another employee at the store. Both guys were tinkerers, Marc with guitars and Travis with motorcycles. Travis was more of a drummer and didn't get "serious" about playing the guitar until his early 20s, about the same time as his stint at the music store.  
The concept for an aluminum neck originated with Travis. After numerous experiences watching Marc do neck adjustments he thought an all-metal neck would be the forever fix so he banged one out of aluminum (with no metal working experience).
Travis was satisfied with his solution, but the "aha moment" occurred after the guys collaborated on a prototype and strung it up. That's when they heard a delightful tone and endless sustain. 
The first prototype was completed in 1972 and it was two years later before they opened up Travis Bean Guitars as partners in Sun Valley, CA. In 1974 the first production small batch were TB1000 Artist models with a carved top utilizing various woods and necks hand carved from solid T6061 aluminum. Rightly so, the guys quickly ditched the hand carved necks for a lathe.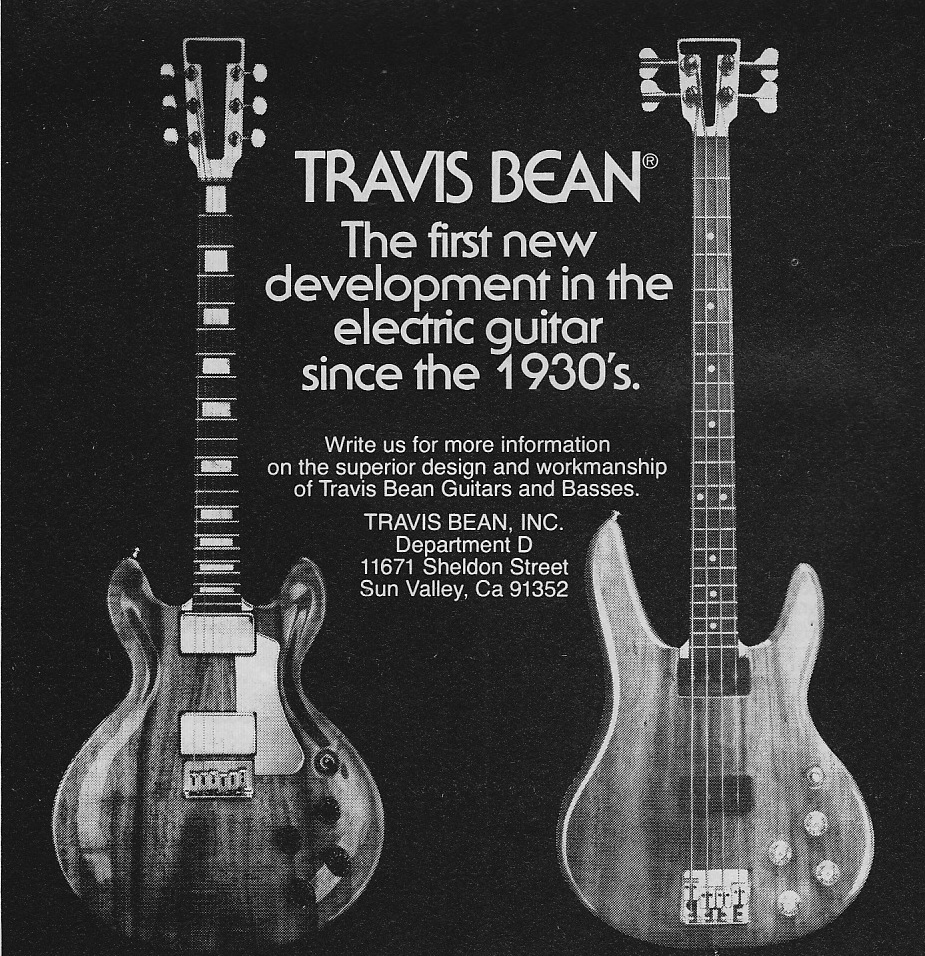 After writing $150,000 worth of orders at the Chicago NAMM show they guys were off to the races.  But wait…
There was another partner in the business, Gary Kramer, eventually of Kramer Guitars fame.  He was the sales/marketing guy of the trio and his version of the early days includes taking ownership for funding and financing the business. 
Travis passed away in 2011 and I cannot find an article where he breathes life into the name of Gary Kramer.  In fact, this is how far apart their sides of the story are: Gary said he wrote $75,000 worth of opening orders at the Los Angeles NAMM show, not Chicago NAMM. That was was the company's inflection point, their single most pivotal moment, and the dollar amount and city are both far apart.
Who to believe?  I don't know, but clearly there was very bad blood between the two and here's what happened next…
Gary Kramer left in 1975 to start Kramer Guitars after learning Travis had patented the aluminum neck design in his own name. The design shows the routed neck-through metal running from the headstock to the bridge with pickup cavities. Travis and Marc (and team) went on to build just over 3,600 guitars and basses through 1979.  Early proponents of "the Beans" included Joe, Rory Gallagher, Jerry Garcia, and Bill Wyman. 
---
---
There were a total of five different models plus a handful of one-off customs.  The most produced models were the TB1000S, TB1000A, and TB2000 bass.  Bodies were generally constructed from koa wood and that really turned into their signature (beyond the aluminum neck of course).  That was by accident as Travis described it as being readily available from early suppliers. 
There were a few painted exceptions, most notable was the TB3000 Wedge guitars, Bean's take on a Flying V.  These were offered in white, black, and red. 
The successful business run was short and riddled with obstacles the last couple of years. That included a factory shutdown for the first half of 1978 as fresh investors were sought to keep things afloat.  When production resumed there were some changes including wider horns, thinner bodies, and to some enthusiasm, coated necks to decrease the cold feel. 
Travis Bean Guitars closed for good in 1979 and the shop equipment went to auction.  The exact reason for the downfall is a mystery, but based on some interviews with Travis it can be inferred the new investors were looking to scale production and minimize costs by jeopardizing the product.  Travis wasn't having it. 
A very in depth technical and historical analysis can be found at travisbean.